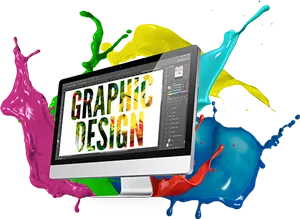 The visual impression is the brand, and like the analogy between the ball and the player: they are inseparable.
Indeed, in the world of media we live in, it is impossible for a professional to develop an appearance with no similarities.
This is an important detail because today it is hard to think of a big firm, without having its brand pop into our minds.
Seeing as appearance has the power to be almost instantly linked to your company with the graphic impression it creates, it is very important to put the design in the hands of professionals.
In our agency, we respect all that is related to the aesthetics of your business, and so we only work with graphic designers from the best computer graphics schools.
Creating a Logo
A company logo is so important that today it would be unthinkable to start a company without one.
However, this could be a double-edged sword. A skillfully designed logo can define the values of your company but it can also jeopardize the organizational communication as a whole if it poorly represents a relevant field of activity.
When designing the logo, our graphic designers bring benefit to your project.
We also provide a number of samples, to make it easier for you to decide.
Website Design
Website design is as important as the development of the site itself. The design of the site will have a specific effect on its audience, and so we will design it very carefully.
If you wish to improve the quality of your website, its ergonomics and its physical aspects, the fact that people connect to websites for a limited period of time must be taken into account.
For this reason, it would make sense to go for a design that combines beauty and practicality providing a pleasant user experience in order to increase the conversion rate of the site.
Thanks to their many years of experience, our graphic designers can promise you a neat and distinctive website design that will be unique to your firm.